Commercial building contractors are the heart and soul of construction projects. They are the ones responsible for turning architectural visions into tangible realities. Whether it's an office building, a shopping center, or a warehouse, these professionals are the driving force behind it all. They take the plans and blueprints and orchestrate a symphony of activities to bring them to life.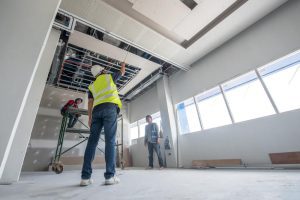 Commercial Building Contractors
Responsibilities
Project Management: Commercial building contractors are akin to project managers. They oversee every aspect of the construction process, from the initial planning stages to the final touches. This involves scheduling, budgeting, procurement, and the coordination of various teams, including architects, engineers, subcontractors, and laborers.
Budgeting and Cost Control: Keeping projects within budget is no small feat. Contractors must balance the costs of labor, materials, and equipment while ensuring quality and adherence to regulations. Their ability to manage these financial aspects can make or break a project's success.
Risk Management: Construction projects are rife with potential risks, from weather delays to design flaws. Contractors must identify and mitigate these risks to ensure that the project stays on track. This often involves navigating complex legal and regulatory issues.
Quality Assurance: Ensuring that the finished product meets or exceeds quality standards is non-negotiable. Contractors are responsible for monitoring every aspect of construction to guarantee that the work is performed to the highest standards.
Safety: Safety is paramount in the construction industry. Contractors must create and enforce safety protocols to protect workers, visitors, and the public. They also need to adhere to ever-evolving safety regulations.
Qualities
Leadership: Effective leadership is a must. Contractors must inspire and motivate teams, resolve conflicts, and make difficult decisions. Leadership also involves setting a clear vision and strategy for the project.
Problem-Solving Skills: In the world of construction, challenges are bound to arise. Contractors must be adept problem solvers, finding creative solutions to unexpected issues.
Attention to Detail: The devil is in the details, as they say. Contractors must be meticulous, ensuring that every aspect of the project is executed with precision.
Communication: Effective communication is vital in a complex, multi-stakeholder environment. Contractors need to be able to convey ideas, expectations, and progress clearly and diplomatically.
Adaptability: The construction industry is constantly evolving with new technologies and materials. Great contractors embrace change and stay updated on industry trends.
Commercial building contractors are the unsung heroes of the construction world. They are the driving force behind our ever-evolving urban landscapes, turning architectural dreams into reality. Their role is multifaceted, encompassing project management, budgeting, risk management, quality assurance, and safety. What sets apart great contractors is their leadership, problem-solving skills, attention to detail, communication, and adaptability.
No matter what type of commercial building project you have in mind, the Gainesville Remodel team is ready to handle all your commercial construction needs. Contact the Gainesville commercial building contractors at Gainesville Remodel.