Roof Replacement Gainesville Florida. When it comes to maintaining your home, one of the most critical aspects is ensuring the integrity of your roof. Living in Gainesville, Florida, means dealing with the region's unique weather patterns, including heavy rain, intense sunlight, and the occasional hurricane threat. These factors can take a toll on your roof over time, making roof replacement a crucial consideration for homeowners. In this blog, we will explore the importance of roof replacement in Gainesville, the signs that indicate it's time for a replacement, and the benefits of investing in a new roof.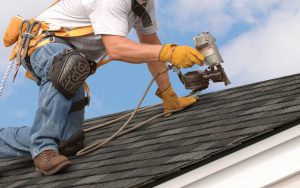 Roof Replacement Gainesville Florida
The Importance of Roof Replacement
Protection Against the Elements: A well-maintained roof is your home's first line of defense against rain, wind, and the scorching Florida sun. An aging or damaged roof can allow water to seep in, causing structural damage, mold growth, and other costly issues.
Energy Efficiency: A new roof can improve your home's energy efficiency by preventing air leaks and reducing your reliance on heating and cooling systems. This can lead to lower energy bills and a more comfortable living environment.
Increased Property Value: A new roof enhances your home's curb appeal and market value. If you plan to sell your house in the future, a well-maintained roof can make it more attractive to potential buyers.
Signs You Need Roof Replacement
Age: The lifespan of a typical asphalt shingle roof is around 20-25 years. If your roof is approaching or has surpassed this age, it's time to consider replacement.
Shingle Damage: Cracked, curled, or missing shingles are a clear sign that your roof is deteriorating. These issues can lead to leaks and water damage if left unaddressed.
Leaks: If you notice water stains on your ceiling or walls, it's a strong indicator that your roof is compromised and needs immediate attention.
Sagging or Rotting: A sagging roof deck or visible signs of rot in the attic are red flags that your roof may be structurally compromised and should be replaced.
Benefits of Roof Replacement
Enhanced Safety: A new roof provides better protection for your family and possessions, reducing the risk of structural damage and health hazards caused by leaks and mold growth.
Improved Energy Efficiency: A properly installed roof with modern insulation materials can help regulate your home's temperature, leading to energy savings year-round.
Increased Home Value: Investing in a new roof can boost your home's resale value, making it more appealing to potential buyers.
Peace of Mind: Knowing that your home is protected by a sturdy, reliable roof gives you peace of mind, especially during Florida's stormy seasons.
Choosing a Professional Roofing Contractor
When it's time to replace your roof, it's crucial to hire a reputable roofing contractor in Gainesville, Florida. Here are some tips for selecting the right professional:
Research: Look for local roofing companies with positive reviews and a solid reputation. Ask for recommendations from friends, neighbors, or online communities.
Licensing and Insurance: Ensure that the contractor is licensed and adequately insured to protect you and their workers in case of accidents or damage during the project.
Get Multiple Quotes: Obtain quotes from several contractors to compare costs and services. Be cautious of significantly low or high bids.
Warranty: Choose a contractor that offers warranties on both materials and workmanship to guarantee the longevity of your new roof.
Roof replacement in Gainesville, Florida, is not just a home improvement project; it's a necessary investment in the long-term health and value of your home. Recognizing the signs of a deteriorating roof and taking action promptly can save you from costly repairs down the road. By choosing a reputable roofing contractor and investing in a new roof, you can ensure your home remains safe, comfortable, and protected from the elements for years to come.
Payne Construction has been providing residents of Gainesville Florida with roof replacement, reroofing, and roof repairs for many years. We are Gainesville's premiere roofing company. From estimation to completion, our team is ready to handle all your roofing needs.