Kitchen and Bath Remodeling in Gainesville Florida – Gainesville, Florida, is a charming city known for its vibrant culture, lush landscapes, and a mix of historic and contemporary homes. If you're a homeowner in Gainesville, you understand the importance of maintaining and enhancing your property's value and comfort. When it comes to home improvements, kitchen and bath remodeling are two projects that can truly transform your living space. In this blog, we'll explore the exciting world of kitchen and bath remodeling in Gainesville, Florida, and how these renovations can elevate your home.

Kitchen and Bath Remodeling in Gainesville Florida
Kitchen Remodeling in Gainesville
Modern Kitchen Designs: Gainesville homeowners are increasingly opting for modern kitchen designs characterized by sleek lines, minimalist aesthetics, and functional layouts. High-quality cabinetry, energy-efficient appliances, and innovative storage solutions are popular choices.
Natural Elements: Given Gainesville's lush surroundings, integrating natural elements into your kitchen remodel is a great idea. Consider using wood or stone countertops, bamboo flooring, and large windows that connect your kitchen with the outdoor landscape.
Open Concept Living: Knocking down walls to create an open concept kitchen and living space is a growing trend in Gainesville. This not only improves functionality but also enhances the sense of space and connectivity in your home.
Energy Efficiency: In a city known for its commitment to sustainability, many homeowners are investing in energy-efficient kitchen appliances and lighting. This not only reduces utility bills but also contributes to a greener environment.
Bath Remodeling in Gainesville
Spa-Like Retreats: Gainesville residents are turning their bathrooms into spa-like retreats. Features like walk-in showers with rain showerheads, soaking tubs, and heated floors are increasingly common in bath remodels.
Natural Materials: Just like in kitchen remodeling, the use of natural materials is a trend in bath renovations. Stone tiles, marble countertops, and wooden vanities create a serene and luxurious atmosphere.
Smart Technology: Homeowners in Gainesville are embracing smart technology in their bathrooms. From touchless faucets to smart mirrors with built-in lighting, technology enhances convenience and functionality.
Universal Design: As Gainesville has a diverse population, some homeowners are opting for universal design principles in their bath remodels. This ensures that the space is accessible and comfortable for everyone, regardless of age or ability.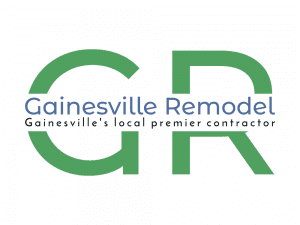 Kitchen and bath remodeling in Gainesville, Florida, offers homeowners the opportunity to enhance their living spaces, increase property value, and enjoy the beauty of this vibrant city to the fullest. Whether you're looking to create a modern kitchen, a spa-like bathroom, or a sustainable living space, Gainesville Remodel can make your dream home a reality. Start planning your remodel today and watch as your home transforms into a masterpiece of design and functionality.
Choosing the Right Remodeling Professional – When embarking on a kitchen or bath remodeling project in Gainesville, it's crucial to partner with the right remodeling professional. Gainesville Remodel is the contractor of choice in Gainesville Florida. Contact us today to find out about all the advantages of kitchen remodeling and bath remodeling.