Licensed Gainesville Roofer – Make Sure Your Roofer is a Licensed Roofer – Today's guest blog is by The Golden Law Firm. The opinions expressed by the author in this and all guest blogs are not necessarily those of Gainesville Remodel.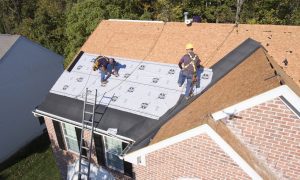 Make Sure Your Roofer is a Licensed Roofer
Building your first house is a tremendous milestone to achieve during a lifetime, and it is important that you do everything right. No part of a house is easy to redo, and it can be expensive after the home is built. Thus, it is your duty to ensure that no mistakes are made and correct decisions are made the first time around. Roofing is considered as the central part of a building's foundation because it protects everything inside the home. The quality of the roof defines the strength and integrity of a house.
Different states within the U.S have roofing laws that deviate from each other more or less. To avoid any misconceptions, be sure to review the guidelines that dictate construction laws in your area. Moreover, not anyone can become a roofing contractor that easily; they will need to prove certain qualifications and then be required to go through a lengthy procedure to get registered with the state. Only then they can acquire a roofing license and legally build and repair roofs for clients.
During the initial stages of building a house, its common practice to save money where possible. Bargaining is not a bad thing, but when it comes to your roof, you should never compromise quality for the price. Many amateur contractors will offer to build your roof much cheaper than the market rate and it is easy to fall for this false incentive. They claim to be professionals and sweet talk clients into giving them the job and then perform poor quality work.
When you hire a contractor who cannot provide a roofing license, you are putting your future at risk. At times it is evident that a contractor is breaking rules, and when you point it out, they may claim to be part of a law firm or say that they are tied with construction authorities. Remember, a person who illegally takes up a roof construction job and the client who hires them, are both responsible for the consequences.
Also, at times the presence of a roofing license may also not prove the authenticity of the contractor. They might have lied their way into obtaining one and are frequently involved in malpractice. You may not realize that they are deceiving you unless they get caught by the authorities. If a contractor gets caught breaking the law, they will have to face heavy penalties and fines.
To ensure that your house has a secure roof, opt for a reputable construction company that has been in the roofing business for a long time. It might seem more costly, but it is cheaper than the costs you will have to deal with after getting a faulty roof that was cheap, to begin with. Roof repairs are a time-consuming process and some can be costly, depending on the level of damage that has occurred over the years.
When getting a new roof or repairing an existing roof, be aware of the materials used and the quantity of the roofing materials. Do your research beforehand and only demand the application of brands that you have heard of, or have a respectable name in the industry.
Licensed Gainesville Roofer