Exploring the Most Popular Bathroom Renovation Trends by Payne Construction in Gainesville Florida. Bathroom renovations have evolved significantly in recent years, with a focus on creating functional, stylish, and serene spaces that reflect personal taste and modern design aesthetics. From innovative technology to timeless design elements, the latest bathroom renovation trends are shaping spaces that combine luxury, comfort, and functionality. Let's delve into some of the most popular trends that have been transforming bathrooms across the globe.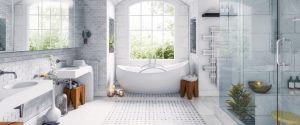 Exploring the Most Popular Bathroom Renovation Trends
Smart Technology Integration: The integration of smart technology has revolutionized the modern bathroom experience. From voice-activated features for faucets, lighting, and temperature control to smart mirrors equipped with built-in displays and speakers, technology has found its way into almost every aspect of the bathroom. Smart showers with programmable settings for water temperature and flow are becoming increasingly popular, offering a customizable and luxurious bathing experience.
Timeless Materials and Finishes: Timeless materials such as marble, granite, and quartz continue to dominate bathroom renovations. These materials are not only elegant but also durable, making them a popular choice for countertops, flooring, and even walls. Matte black fixtures and hardware are also a prevailing trend, adding a touch of modern sophistication and contrasting beautifully with lighter tones.
Statement Bathtubs and Showers: Freestanding bathtubs have become a focal point in many bathroom designs, offering a sense of luxury and relaxation. These bathtubs come in various shapes and materials, including sculptural designs made from materials like stone or resin. Similarly, large, walk-in showers with frameless glass doors are gaining popularity, creating a spa-like ambiance and providing a feeling of openness within the bathroom space.
Biophilic Design: The incorporation of biophilic elements into the bathroom brings a touch of nature indoors. Greenery, natural light, and organic textures like wooden accents or stone fixtures create a soothing and rejuvenating environment. Living walls, or vertical gardens, are becoming increasingly popular, bringing in a refreshing and calming element to the bathroom.
Minimalist and Functional Storage: Streamlined and efficient storage solutions are key in modern bathroom design. Floating vanities, open shelving, and hidden storage options maximize space while maintaining a minimalist and clean aesthetic. Customized storage solutions cater to individual needs, ensuring that every item has its place without compromising the overall design.
Bold Patterns and Colors: Bathrooms are embracing bold patterns and colors, moving away from the once-popular all-white or neutral color schemes. Vibrant wallpapers, geometric tiles, and dramatic color palettes are being used to add personality and character to the space, creating a visually striking ambiance.
Accessible and Universal Design: With a focus on inclusivity and accessibility, universal design principles are being incorporated into bathroom renovations. Features like curbless showers, adjustable-height vanities, and grab bars that seamlessly blend with the overall design aesthetic are becoming more prevalent.
As design trends continue to evolve, personal preferences and individual styles will always play a crucial role in bathroom renovations. The current trends are versatile and allow for personalization while emphasizing functionality and style. Whether you prefer a spa-like retreat or a bold, vibrant space, these trends offer a myriad of options to transform your bathroom into a truly inviting and stylish sanctuary.
No matter what your style is, Payne Construction can design and and create the bathroom you have always wanted. Contact us for a free estimate.