Renovation Trends 2023- Make Your Living Room Extra Ordinary – The opinions expressed by the guest author in this and all guest blogs are not necessarily those of Gainesville Remodel.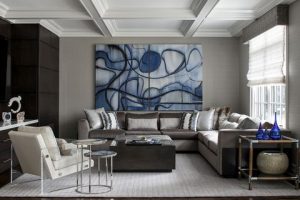 Renovation Trends 2023- Make Your Living Room Extra Ordinary
Investigate how attentive design, maximization, and an eclectic combination of materials are expected to be popular this year. The most recent living room trends will provide you with everything you need for a fresh overhaul of your area, from the proper colors to utilize to furniture types, lighting, and more.
The living room is one of the most significant rooms in the house since it is so versatile and multifunctional. Your living room ideas must work hard to provide the perfect environment for all of your needs as a key hub and gathering spot where we relax, socialize, and entertain – and there is always space for improvement and exciting change with the latest living room trends. When it comes to interior design trends, we are not interested in passing fads. Instead, we concentrated on timeless, elegant concepts that will last beyond this year, so you may be inspired and confidently create a living space.
Remember to create a welcoming, beautiful, and comfortable place while using the newest trends to design a living room layout.
The Display Art
Displaying our (selected) possessions rather than cleaning them away is one of the living room ideas likely to be big in 2023. Sideboards, display cabinets, and even living room shelving ideas are great for displaying keepsakes and treasures while also adding character to your living space. They even make more easy & simple to use overall.
Prioritize Lighting in the Living Room
Because a living room frequently serves numerous tasks, your living room lighting ideas must be carefully considered so that each zone of the area is perfectly illuminated. The days of merely turning on the 'big light' are long gone; instead, a living room should have numerous pleasant pools of light, as well as a combination of both functional, task lighting and ambient, ornamental light sources.
Look To Nature for Inspiration
Following the pandemic, incorporating nature into our indoor settings became quite popular, and the Biophilia trend is expected to grow even more in 2023, particularly for open-plan living room concepts. 'Plants are the new pets, and flowers are the new natural high that will help us reconcile the demands of a fast-paced digital world with our need for quiet and stability,' says one expert.
Accept More Mindful Design
Rather than physical objects, we will begin to consider sentiments and atmosphere this year. A candlelight drinks trolley adds a sumptuous touch to a living room at night, while bringing a large branch from the yard indoors can have a profoundly creative effect.'
As many of us look for ways to be more sustainable in our homes, taking a more attentive and intentional approach to decorating our spaces can not only assist the environment, but it can also help us see some places in a new light – without having to buy a lot of new stuff.
Experiment with Patterns
Decorating using patterns is a terrific way to add color and personality to a place.  Choose the colors for the scheme from that fabric, then choose a combination of designs in that palette – possibly a stripe, a geometric, a floral, and a texture choice such as coarse linen or herringbone. For example, if you have a large patterned sofa, choose simple drapes or ones lined with a delicate design to allow it to breathe.'
Final Thoughts
Let's just say that the fondness for mid-century modern furniture isn't going away. Clean, sleek lines are still a popular living room design. However, in keeping with the overall comfort trend, furniture that is cozy, soft, and curvaceous is infiltrating the simple designs of Mid-century modern pieces. Tactile upholstery is also popular, with boucle, velvet, suede, and other fabrics that feel pleasant to the touch being popular living room furniture options. We're also seeing a major comeback to symmetrical living rooms and organized furniture layouts to assist and encourage calm.
A smart room with natural touch is the trend now. Multifunctional furniture with some natural products will make it more trendy & beautiful.
Author's Bio:
EmpireOne Credit Solutions have dedicated their lives to providing Consumer Proposal services and we stand by your side throughout your entire case. Contact us today if you have any questions about starting the process.
Renovation Trends 2023- Make Your Living Room Extra Ordinary